Yapp the project calculator 2.0

Yapp the Project Calculator 2.0 is an advanced project planning tool that allows you to plan your projects based on rules. This keeps the projects realistic in their goals, and gives warnings based on resource overuse, deadline breach, and dependency violations.
Download your copy of Yappsetup.exe
New version out 2.0; (what's new?)
Why you should try this project planning tool:
Most project planning tools are ok drawing environments but they fail in coordinating available resources and their use. They do not give you any or only modest support in rule based planning. They do not give you up to date warnings on common rule violations like resource overuse, deadline breach, and dependency violations. This information is crucial to you in order to build a realistic and working project plan. Yapp does this, Yapp helps.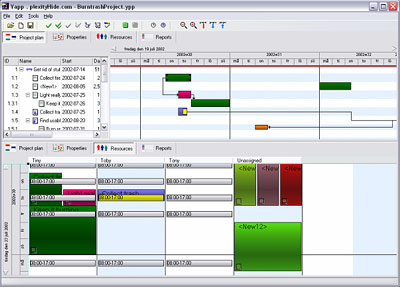 Installation & Setup
There was nothing out of the ordinary with the installation, and there wasn't much to configure. Once it's installed, you're ready to start adding in information.
Interface & Ease of Use
The interface is very easy to use, which is one of the highlights. It includes a great multilayered project timeline, the hours designated by employee, and a very informative information section which shows warnings, resources, and the economy.
Functionality
This is a great project planner for simple and complex projects which excels past their competitors using rule based planning, and resource use. This can save you time and money by notifying you of unused resources and deadlines that need to be met. This gives you a realistic plan to follow through on. One thing I liked about Yapp is that it gives you a split view of the same information displayed in any of the 4 ways, giving you an easy way to compare your information in different ways.
Conclusion
Yapp the project calculator is a very sophisticated tool for managing your projects with superior ease and reliability. I would recommend this application to anyone needing to plan anything involving people, resources, and time.

Yapp screenshots and walk thru
OEM-Agreements? Email Sales@plexityHide.com
Read the Concepts and tutorial
If you have written anything anywhere online about Yapp, send us a link and you will get a free copies of Yapp and ColorSwap.

"I looked at the competitions (Graphics Server, Component One, and a few others), but they did not have nearly the programming depth and granular control that your product offers to a developer. This product is definitely well worth the money (and effort to learn it)."
Pertti Karjalainen,
Product Manager,
Northern Lights Software
More testimonials...